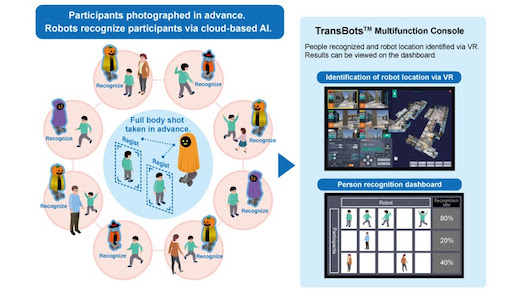 The new TransBots™ feature enables AI-driven person recognition. © TOPPAN INC.
Artificial intelligence-driven human recognition has been added to the TransBots™ solution for centralized control of multiple types of robots. Pilot test carried out as part of the "CHANGE TOMORROW" event.
Tokyo – Toppan, a global leader in communication, security, packaging, decorative materials and electronic solutions, has developed TransBots™, a digital twin solution for connecting physical spaces with real-time virtual reality reconstructions and central management and control of various types of services. robots.
As a new feature, Toppan has now developed an artificial intelligence (AI) system that allows multiple moving robots to identify people whose images have been uploaded in advance. This person recognition feature was validated in a pilot test in which images sent by bots at different locations in the event space were analyzed and compiled in the cloud using an AI engine. From the camera images sent by different types of robots, it was possible to identify specific people and perform cloud confirmation. The test also showed that people's locations can be accurately determined using robot positions on TransBots™.
Toppan aims to contribute to a fulfilling and sustainable society by employing TransBots™ and other solutions that drive the application of digital twins in various fields such as security, customer analytics, consulting, transportation and cleaning. Going forward, Toppan intends to help alleviate labor shortages and transform work styles by strengthening collaboration with robot manufacturers, enhancing the multi-functional console for service robots and TransBots™, and enabling more use cases.
Background
Japan's aging society and declining birth rate are contributing to a labor shortage that is becoming severe in security, janitorial and other areas of the building management industry. Robots and IT are seen as part of the solution, and robots specialized for tasks such as reception and cleaning are being introduced. However, managing bots is complicated because there are several different types to control.
Security cameras and other Internet of Things (IoT) devices are used to manage buildings such as hospitals and complexes, as well as control entrances to exhibitions and concerts. However, limitations on the extent to which humans and security cameras can monitor mean that robots are expected to play a larger role in the future.
Toppan's TransBots™ is a digital twin solution for centralized management and control of various types of robots. Operators can use the multi-function console to configure courses for robot movement in virtual space. Real-space robots then move along courses to safely arrive at their preset destinations. Robots can also determine their own current location, detect obstacles and speak to ensure the safety of people nearby. The use of virtual space to set courses and control robots means that tasks can be carried out remotely.
Toppan has now added AI-driven human recognition to the TransBots™ console. When people who have been pre-registered in the system enter the physical space, several moving robots can recognize them. It is expected to have a variety of applications, including the remote management of hospitals and complexes, and the management of large events with limited access, such as exhibitions and concerts. In addition to telepresence robots1, TransBots™ can also be used for a wide range of service robots, such as robot carriers and mobile picking robots.
About the TransBots™ multifunction console
The TransBots™ multifunctional console is part of the digital twin solution. It consolidates elements such as robot location, battery capacity, video from cameras, image display and sound on the robot HUB in the cloud and allows them to be controlled through various application consoles.
Key features include Graphical User Interface (GUI) to control the robot digital twin, draw robot map, connect robot from multiple vendors, automated/manual operation, web-based robot management panel, multiple telepresence management, live video streaming, device communication, remote multi-site control center, video storage and marking functions.
Features of the person recognition function
?Location precisely determined using pre-registered information
When multiple robots moving in a certain area recognize a person matching the pre-registered information, the location of that person can be identified from the robot positions.
?Images stored on the server
Images taken by multiple robots when a person is recognized can be saved to the cloud and displayed as a list on the dashboard.
?Reduced cost of robots
Since AI-driven human recognition is performed in the cloud using video images sent by robots, there is no need to equip the robots themselves with edge computers2 to provide AI functions, thus contributing to cost reduction. Connecting to TransBots™ also allows bots of different types to use different functions.
Overview of the pilot test
Dates: 29 and 30 October 2022
Location: Toppan booth3 inside the Workshop Collection at CHANGE TOMORROW (Presentation of an interesting future)4 (Location: Tokyo Portcity Takeshiba)
Objective: To test the new TransBots™ artificial intelligence-driven human recognition feature
Details:
?AI-driven person recognition
In order to validate the person recognition function, recognition data was first created by registering participants' images when they joined the event. Based on the data, eight robots scattered around the venue captured images of attendees as they moved. The images were then analyzed using AI to identify people.
Dashboard features
The dashboard feature allows real-time review of images captured by robots. The images taken were used to assess how well each robot was able to recognize people.
The dashboard was used in a game where participants could view a large monitor installed on site to see which robots had seen them and when.
Result: The effectiveness of cloud-based person recognition using an AI engine was confirmed based on more than 200 participants who attended the event.
Action inside the Toppan booth
Event Name: Halloween Event: Robot Halloween—Challenge from Robomon
Target: Kindergarten and junior elementary school children and their guardians
Details: Participants wore Halloween masks and participated in a puzzle-solving game. As they solved puzzles with their guards, they were given hints by three robot monsters "Robomon" in Halloween costumes who also tried to scare them.
1. Telepresence robot
A robot that someone can control from a remote location to simulate their own presence in the robot's location.
2. Edge computer
A computer that not only compiles and processes data in the cloud over the Internet, but also processes data on end-user devices such as robots, IoT devices, and smartphones.
3. Toppan Booth: Workshop Collection in Takeshiba – Experience the cities and work of the future!
http://wsc.or.jp/workshop/takeshiba2022/ (Japanese)
4. CHANGE TOMORROW (presentation of an interesting future)
Event held on October 29th and 30th at Tokyo Portcity Takeshiba (Minato City, Tokyo)
https://change-tomorrow.tokyo/ (Japanese)