The tech industry has cut spending to prepare for a 2023 recession, but if history repeats itself, there may be a silver lining to the recession: an increase in innovation.
The Great Recession of 2008 brought 4G LTE mobile broadband, when only 30% of US households had a smartphone. Most economists are predicting a recession this year, and technology industry watchers are predicting new developments in 5G Industrial IoT, connected intelligence, autonomous systems and quantum computing.
In his keynote speech during the Consumer Electronics Show (CES) last week, Steve Koenig, vice president of research at the Consumer Technology Association, said he expects to see innovations in these areas to solve pressing problems, such as the labor shortage.
"Yes, there has been a decline in technology, but in the global sector, businesses are struggling to find workers," Koenig said. "New technology can help with that."
Robotics in manufacturing and driverless truck technology are advancing to fill the truck driver vacancy. At CES, John Deere unveiled its autonomous tractors – a harbinger of new innovations to come.
Special recession
Companies that continue to invest at higher levels than their competitors during economic downturns tend to see stronger persistence in sales, said Christopher Gilchrist, principal analyst at Forrester Research.
"This decline in the tech industry is down to the simple fact that, at the growth levels these tech companies are at today, they have never gone through a full economic cycle," Gilchrist said. "Many of these industries were still in the early stages, high-growth modes that led to the financial crisis."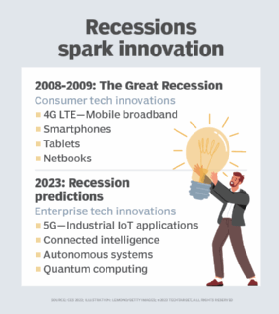 This naturally put less pressure on shareholders to maintain short-term profit targets at the expense of long-term growth as their business models were still evolving, Gilchrist said. R&D between 2000-2010 remained high compared to other R&D-intensive industries, and these industries experienced growth that exceeded the overall market after the recession, he said.
During the COVID-19 pandemic, advanced business models have benefited from sales while others have been left to adjust amid shutdowns and manage major changes in consumer behavior, Gilchrist added.
The market correction will pick up speed this year, putting pressure on near-term profits. The question now becomes, what long-term growth costs will this pressure have on technology firms?
Big tech companies like Salesforce, Microsoft, Google and Amazon have recently cut costs through hiring freezes, layoffs and restructuring, and will continue to cut where margins are low. These strategic cuts reduce pressure on shareholders while allowing companies to maintain their market positions, analysts say.
R&D continues, with caveats
While the days of cheap capital and big bets on unsustainable business models are over, investment in innovation continues – albeit in a more controlled manner.
Tech companies have adjusted their spending patterns. Investments are driven by restrictions, regulations, and lessons learned in areas such as cryptocurrencies and security issues, said Seth Robinson, vice president of business research at CompTIA, a nonprofit organization for the IT industry and staff.
"Nothing extinguishes the flames of innovation, it just changes," he said.
Research and product development is a long-term investment and analysts expect tech firms to continue spending, with a few caveats. The first is that R&D will be focused directly on high-margin sectors, says Forrester's Gilchrist.
"R&D efforts will focus on opportunities that can expand existing markets instead of focusing on opportunities that can expand new markets," he said. "Holding growth in stable markets is more prudent than creating growth in unstable markets."
In other words, R&D will benefit hot markets, such as security, cloud and AI, instead of new markets that have yet to prove profitable. Technology industry leaders at CES reiterated the need to invest in those areas to drive business forward.
"Anyone who ignores those megatrends will find themselves falling behind," Nasdaq Chairman and CEO Adena Friedman said during a session at CES.
Innovation ensures competitive advantage
Yes, there is a strong business case for maintaining R&D intensity through the recession, and technology firms with high margins and cash flow will continue to do so, Gilchrist said.
Taking a chance today will cost you more tomorrow.


Christopher GilchristPrincipal Analyst, Forrester Research

"The money may not be 'cheap,' but these industries are sitting on top of everything. "Sacrifice an opportunity today will cost more tomorrow."
In many cases, it will be up to IT leaders to convince business managers to invest more in innovation — a task that is especially difficult for organizations that still view IT as a cost center, rather than a profit center.
"Technologies that improve competitive advantage are where companies will want to continue to invest," CompTIA's Robinson said.
Although recent headlines have focused on technology company layoffs, the bigger picture shows that companies continue to invest in hiring IT professionals who can drive innovation initiatives.
CompTIA reports that 30% of all tech job vacancies are for positions in emerging technologies, such as artificial intelligence, or in roles that require emerging technical skills.
Microsoft, Intel, IBM and Cisco did not provide technical investment plans.