Qualcomm Incorporated (QCOM – Free Report) recently announced that its automotive design-win pipeline has grown to $30 billion by September 22, 2022. This reflects the current estimated value of future automotive business orders as it aims to connect millions of devices with the 'connected intelligence 'Edge'.
Driven by increasing adoption of Snapdragon Digital Chassis solutions across the automotive industry, the design win portfolio has improved by more than $10 billion over the third quarter of fiscal 2022. Qualcomm is seeing healthy traction in EDGE networks that are helping transform connectivity in cars, businesses, homes, smart factories, next-gen PCs, wearables and tablets. The automotive telematics and connectivity platforms, the digital cockpit and C-V2X solutions are driving emerging trends in the automotive industry such as the growth of connected vehicles, the transformation of the in-car experience and vehicle electrification.
The acquisition of Veoneer, Inc. provides Qualcomm with a more solid footing in the emerging driver assistance technology market as it aims to expand the Snapdragon Ride Advanced Driver Assistance Systems (ADAS) portfolio. Veoneer's Arriver business operates the dedicated software unit focused on sensor perception and driving policies, including a whole range of features and functions. It emerged from a collaboration agreement with Qualcomm and leveraged the chipmaker's Snapdragon Ride SoC hardware to become a leader in ADAS solutions in the automotive industry.
With the acquisition, Qualcomm has added Arriver's computer vision, drive policy and driver assistance assets to its ADAS portfolio to provide an open and competitive platform for automakers to better compete with competitors in the self-driving vehicle market. This, in turn, should boost the auto business as it seeks to grow revenue beyond chipmaking for the smartphone market.
The company intends to use artificial intelligence to meet increasing demand for essential products and services that are the building blocks for digital transformation in the cloud economy. Qualcomm also sees solid growth opportunities in the mobile space, driven by its Snapdragon portfolio, which has reportedly set high standards for premium Android phones.
Qualcomm is one of the largest manufacturers of wireless chipsets based on baseband technology. The company is focused on maintaining its leadership position in 5G, chipset market and mobile connectivity with multiple technological achievements and innovative product launches. It will likely help users experience a seamless transition to super-fast 5G networks by offering low-power, resilient, multi-gigabit connectivity with unprecedented range and Qualcomm's industry-leading security. This, in turn, would provide the flexibility and scalability needed for widespread and rapid adoption of 5G through accelerated commercialization by OEMs.
Qualcomm is reportedly the only chipset vendor with system-level 5G solutions spanning both sub-6 and millimeter wave bands, and one of the largest RF (radio frequency) front-end vendors with design wins across all premium smartphone customers. The company believes that it is on track to become the top-selling RF front-end provider for smartphones in the near future.
The company's shares are down 7.6% over the past year, compared to a 14.8% industry decline. We are impressed with the inherent growth potential of this #3 (Hold) Zacks stock.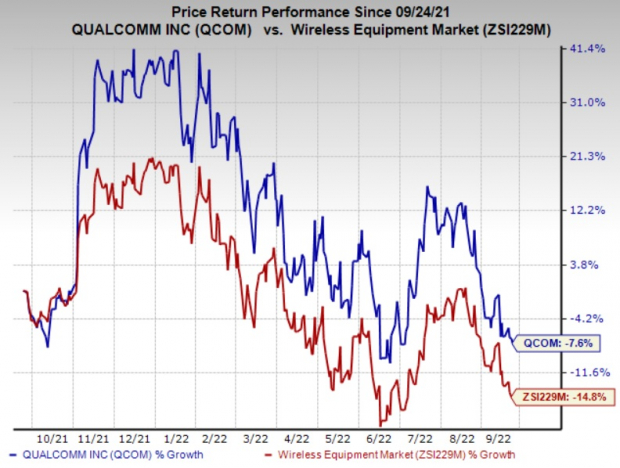 Image source: Zacks Investment Research
A better rated stock in the industry is Clearfield, Inc. (CLFD – Free Report) with a Zacks Rank #1 (Strong Buy). You can see the full list of today's Zacks #1 Rank stocks can be found here.
Clearfield has delivered an earnings surprise averaging 33.9% over the past four quarters. The company's year-to-date earnings estimates are up 101.9% since September 2021. Over the past year, Clearfield is up a solid 99.2%.
Aviation Networks, Inc. (AVNW – Free Report) carries a Zacks Rank #2 (Buy). Zacks consensus estimate for year-to-date earnings has been revised up 13.8% since September 2021.
Aviat Networks delivered a trailing four-quarter earnings surprise averaging 15.9%. It's up 190.6% over the past two years.
Harmonic Inc. (HLIT – Free Report), with a #2 Zacks rank, delivered an earnings surprise averaging 79.3% over the past four quarters. Year-to-date earnings estimates for Harmonic are up 35% since September 2021.
Harmonic provides video delivery software, products, system solutions and services worldwide. With more than three decades of experience, the company has revolutionized cable access networking with the industry's first virtualized cable access solution, enabling cable operators to more flexibly deliver Gigabit Internet service to consumers' homes and mobile devices. Over the past year, the stock has gained 27.4%.