The importance of adequate nutrition in childhood should not be overlooked.
Parents play a primary role in meeting their children's daily vitamin, mineral and macronutrient needs.
If children consume a poor diet by eating processed foods such as biscuits, chips, soft drinks, and junk food, they may be at risk for nutrient deficiencies. It is the parents' responsibility to prepare and offer their child healthy food choices and to model good eating behavior to encourage their child to consume more nutritious foods.
Children with nutritional deficiencies are particularly vulnerable to changes in metabolism that negatively affect the cognitive ability and performance of the brain; A child's diet directly affects their ability to learn, focus and concentrate.
Parents sincerely want their children to succeed in academics and sports at school. They try to support their children by helping them read, enrolling them in after-school education, and providing a healthy upbringing at home.
Mothers should pay special attention to the nutrition of their children, especially at school.
After speaking with several parents and teachers, I found that focus on this area was lacking, as most children often have low-nutrient food options in their lunchbox. Therefore, I think that training in this area can help mothers improve their children's overall well-being.
What mothers should have in their children's lunchboxes.
Today's toddlers have very demanding schedules with extra-curricular activities as well as back-to-back classes. The mid-morning school holidays are between 10am and 11pm, which is the perfect time for a nutritious snack to replenish kids' mental and physical energies so they can perform at their best for the rest of the day.
Examples of nutritious school snacks include: sandwiches with a healthy source of protein (chicken, hunter's beef or eggs), fruit, and milk.
In developed countries such as the USA, England, China, EU and Turkey, milk is given to school children at recess either by the state or through school programs.
Milk is an easy and complete food source that is rich in various nutrients and helps meet the daily nutritional needs of children.
Milk is rich in protein, calcium and vitamin D.
Calcium and vitamin D are essential for helping children maintain strong bones and teeth, and one of the best sources of calcium and vitamin D is dairy products.
Vitamin D deficiency in children is very high in Pakistan. Because this vitamin is an essential nutrient for maintaining skeletal muscle and bone health, it's important to keep levels under control.
Protein also helps kids build and maintain lean muscle mass. Studies show that milk proteins help children grow taller.
Regular milk intake can therefore translate into better performance in physical activities at school and in sports.
Milk contains vitamin A
Essential for a healthy immune system in children, vitamin A keeps children's immune systems strong, which means fewer sick days and school absences.
Milk is rich in B vitamins necessary for energy production.
B vitamins are needed to help cells produce energy. Especially vitamin B12 plays an important role in brain development and brain functions. This can translate into improved focus and concentration resulting in improved academic performance.
Various studies among schoolchildren around the world support these facts.
The National Institute of Nutrition in Vietnam conducted a study on the effect of fortified milk consumption in primary school children. They found that children who consumed fortified milk daily showed greater improvement in short-term memory, better indicators of learning, and better weight and height compared to children who did not drink fortified milk regularly.
Rahmani et al. (2011) in a study conducted on school children in Iran, they found that drinking one serving of milk a day at school has positive effects on children's mental and physical functions and school performance.
Are nutritious school snack options readily available?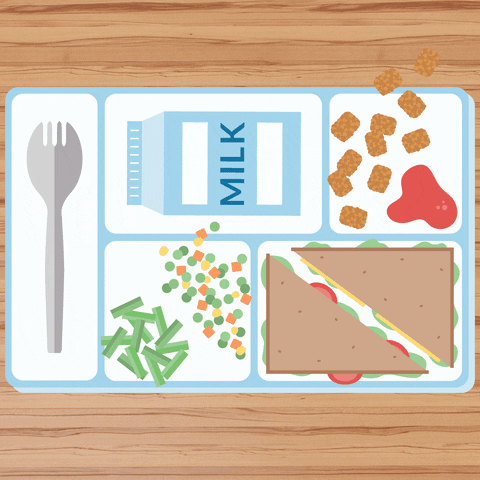 Luckily, Pakistani supermarkets are often filled with a variety of options that can be used to design a nutritious and delicious lunchbox at the same time. A variety of nutritious options can include sandwiches with a healthy source of protein (chicken, hunter's beef or eggs), vegetables, and seasonal fruit.
Among the beverages, the most nutritious option is to add a pack of milk or, if your child prefers it, flavored milk.
Various reputable brands, such as Olper's, now offer milk that comes in children's favorite flavors in convenient packages. Olper's Flavored Milk adds Calcium, Vitamins A and D as well as nutritive milk, making it a highly nutritious and complete beverage.
As a nutritionist, I'm asked why I recommend flavored milk to kids. In my opinion, the pros of this choice far outweigh the cons. Based on my previous experience in pediatric nutrition clinics, I am aware that many children do not like plain milk. The advantage of including flavored milk in children's diets is that, despite its added sugar content, flavored milk has the same nutritional profile as plain milk, making it one of the best beverage choices available for kids.
A systematic review of more than 50 studies appearing in the journal Nutrition Reviews by Flavia Fayet-Moore indicates that, overall, it is necessary to recommend the consumption of flavored milk as a strategy to increase milk consumption in children.
In summary, a serving of milk is one of the best options for mothers to add to their children's lunchbox. Studies conducted in schools also show that regular milk consumption can help students perform better in their academic studies. Rich in nutrients such as protein, calcium, vitamins A, B6, B12 and D, daily intake of milk helps children build and maintain healthy bones, teeth and lean muscles.
---
Zoha Matin is a nutritionist and coach with a master's degree in Human Nutrition and Dietetics from McGill University. She frequently shares health and nutrition content on her Instagram as @zo.the.nutritionist.
---
This content is produced in paid partnership with Friesland Campina.