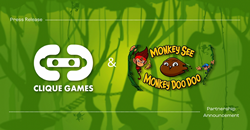 "We want people to have fun. We've taken some of the best parts of VR and tried to put them all into one game. We want people to laugh, sweat and get lost throwing monkey doo at their friends." – Michael Murdock, Co-Founder and Chief Creative Officer of Continuum XR

OREM, Utah (PRWEB)
December 8, 2022
Clique Games today announced the signing of Monkey See Monkey Doo Doo, a free-to-play unique multiplayer VR game where players race to collect bananas before their opponents. Clique Games will serve as the publisher of this highly anticipated VR title. The free-to-play aspect, highly stylized art style, fast-paced gameplay and scalability of multiplayer game modes all create a unique experience that consumers will enjoy.
"Monkey Doo is a great mix of fast action and ridiculous physics. With an incredible development studio that has an extensive list of upcoming features for the game, the partnership was a breeze for us," said Brandon Egolf, co-founder and CEO of Clique Games. "Clique Games are called cliques for a reason. Our long-term goal is to provide you and your friends with amazing XR experiences, both paid and free. Monkey See Monkey Doo Doo is a huge step in our long-term social experience plans and we're excited for what's to come."
Continuum XR, the studio behind Monkey See Monkey Doo Doo, is known for creating custom XR experiences for B2B, but is thriving in this new sector of the XR industry. Michael Murdock, Co-Founder and Chief Creative Officer of Continuum XR, explains: "Since the beginning, Continuum has excelled at using cutting-edge technology to deliver immersive experiences. Naturally, VR and games were in our veins. We took the leap and haven't looked back since." Their emphasis on fun shows throughout gameplay and even helps build the culture and community behind this multiplayer game. "We want people to have fun," Murdock said. "They took we're some of the best parts of VR and we've tried to put them all into one game. We want people to laugh, sweat and get lost throwing monkey doo at their friends."
With a focus on building a strong community, the Monkey See Monkey Doo Doo team has already built an engaged following that looks set to continue to grow and strengthen. Egolf explains, "With just a small amount of influence, Continuum was able to gain over 1,000 Discord users in just over a week! Access to the game is limited to those currently in the community, which has resulted in high engagement. By emphasizing the free-to-play nature of the game, Continuum hits a niche that many Quest & Steam users are looking for – polished, free-to-play VR multiplayer games!
Like many development studios, Continuum XR believed in its ability to create amazing experiences and wanted to continue to do so. "We have a very creative team and we know we can create amazing game development. Once we knew we had something special on our hands, we wanted to continue to focus on the game – and ask the publisher to help us bring it to the masses. With this strategy, we could maximize the user experience and not get distracted by the marketing and publishing side of things," said Murdock, Continuum XR CCO. "Clique Games was a perfect fit because, like us, they saw the potential in the game. They also move as fast as we do, and our vision is in line with the blueprint for where this game could go. While we were vetting other publishers, it really seemed like a slam dunk with the Clique Games team from the start."
Join Discord

Monkey See Monkey Doo Doo is still in early access, but you can join the Discord community for more information on how to play here: https://discord.com/invite/2CyyG8nY7H
About Clique games

Clique Games is a VR publisher and developer that strives to take virtual reality to new heights. Whether it's Hand-Tracking technologies or advanced physics simulation, Clique Games always goes above and beyond to set a new bar for what VR gaming can be. Clique Games are high octane,

endlessly replayable and accessible to all players.
Website: https://www.clique.games/

Press Kit: https://www.clique.games/press
About Continuum XR

We believe that augmented reality (AR), virtual reality (VR) and Web3 blockchain technology are the foundation that will become the next evolution of human interaction. At Continuum, we use these innovative technologies to create unforgettable experiences!
Website: https://www.clique.games/ https://www.continuum-xr.com/
About Monkey See Monkey Doo Doo VR

Monkey See Monkey Doo Doo is a unique multiplayer locomotion game where players are monkeys racing to collect bananas and throw monkey "doo doo" at other players to gain a competitive edge.
Website: https://discord.com/invite/2CyyG8nY7H
Share the article on social networks or by email: