Hey health nuts, welcome back to my channel. My name's Nikole, welcome if you are new here. Today we are doing four five-minute lunch ideas. If you didn't know, I actually have a few of these up on the channel now. I do 10 minute dinners, five minute lunch and breakfast ideas, basically meals in a short amount of time because I get it, everyone's busy, everyone's trying to eat healthy, but you got a certain amount of time in a day and sometimes you don't wanna be in the kitchen cooking all day.
These are meals that I make on repeat, when I'm either working from home or need something quick for heading out, or I'm just taking on the go with me.
And I have a mixture of hot and cold meals in today's video, but if you guys want me to do a strictly cold lunches video let me know, I'm gonna have a poll in the top right hand corner. Also, make sure you are subscribed to this channel, I post every Monday, Wednesday and Friday. There's a subscribe button down below that you guys can use. And don't forget to sign up for our weekly in a nutshell newsletter, we send it out every single week to your inboxes, it's filled with discounts, exclusive content, and you guys seem to really be enjoying it.
You guys are always sending me screen shots of getting the newsletter so make sure you join the health nut fam on the newsletter because we got so many secret projects launching this week that you will not want to miss, trust me. I'm like so excited, I cannot wait to share the with you guys. So without further ado, let's hop right in to the five minute lunch recipes. The first recipe we're making is my five minute Falafel wrap. I love this recipe 'cause it's so delicious and it's super quick to put together.
I have a large tortilla wrap laid down on a plate. You can use Kamut, Spelt, gluten free, whole wheat, whatever you like will work with this recipe. I'm going to spread out some red pepper hummus. You can really use any hummus you like, but I really love the flavor the red pepper gives this. And I like to kind of keep all the ingredients in the center so when you wrap it up it doesn't get too messy.
For greens I'm adding in a handful of some fresh arugula. I love the peppery kick this green has. Sliced tomato, some thinly sliced red onion, some cucumber that I guess I julienned, I've just done them in long strips. And some pre-made falafel wraps that I got at the grocery story. I will link one of my favorite brands down below in the blog post.
I also have a recipe on my own coming to the blog very soon, so stay tuned. And then for final touches I'm just gonna drizzle on some tahini and some black sesame seeds on top. This is such an easy wrap to kind of pull together because a lot of the ingredients are probably just things you have in the fridge and you can kind of just throw it all together in five minutes, like the name says.
And then using your best wrapping skills, roll up the wrap until it's nice and closed tight. You can slice it in half, you can et it as a whole, kind of like a burrito style.
This is such a perfect wrap for when you're hungry and you just need something quick and hardy and in little time. Next up we have my stacked veggie sandwich, which I've been teasing on Instagram, on my vlogs for a couple weeks now. I'm making this on repeat, it's so good. So I have two slices of some seedy whole grain bread. I really like the seedier, the nuttier, the better.
I'm gonna spread on some caramelized onion hummus. This is the best hummus ever. I will link it also on the blog post, it's so good. Layering on some good old fresh spinach, not the baby kind, the kind of grown up kind I guess. I just find the leaves are a bit bigger and they stay in the sandwich a bit better.
Thinly sliced ripe avocado, sliced beets, I get these precooked at Costco, they're already steamed, peeled and ready to go.
And it just brings back my living in Australia days because they put beets on everything, even burgers, and I kind of love it. Sliced cucumber for some crunch. I also have some sliced tomato, and then right on top I'm adding on some sprouts. These are alfalfa sprouts, you can use baby onion sprouts, micro greens, I just love the texture and it just really adds more greens to this already super stacked sandwich.
And then on the other slice of bread I'm gonna just spread on some garlic aioli mustard. You can also use Dijon mustard. I like this one from Trader Joe's, it will be linked as well on the blog. All the things will be linked over there, so be sure to head over there for all of these recipes. And if you're brave enough you can slice these in half although they are very loaded so be very careful.
And you have the most beautiful layered veggie sandwich that is so flavorful. Even though there's no meat in it, you will be satisfied, I promise. Next up we have a fan favorite, my no mayo avocado egg salad, but I'm gonna show you guys a little twist that requires no bread if you want something lighter.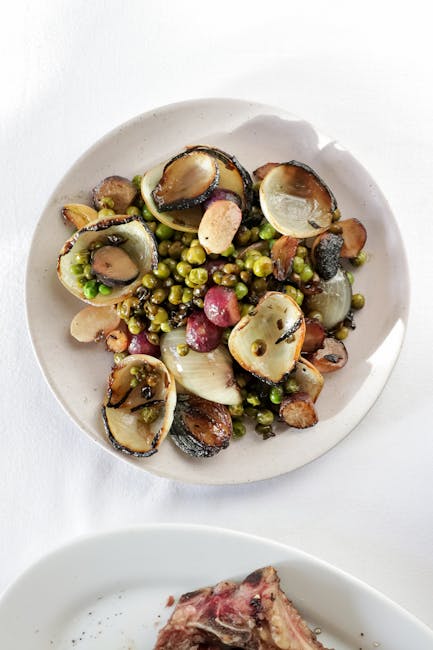 In a large bowl I'm gonna throw in some boiled eggs that I've just quartered, chopped ripe avocado, minced red onion, you can also use shallot or green onion for this, a good squeeze of some fresh lemon juice. P.
S. I love this lemon squeezer, we actually sell it on our shop, I will link it down below. Some fresh dill which really brings the salad to the next level, a drizzle of olive oil, sprinkle of sea salt and black pepper, and you're just gonna mash this all up, and I'm telling you, you will not believe there's no mayonnaise in this recipe. Even when you make it and you're the one making it, you'll be like how did I, did I put mayonnaise in this? There's no mayonnaise and it is just so creamy and light and fluffy, and it works great in a sandwich, but for today I'm actually gonna lay it on a bed of baby spinach.
I showed this method in my 10 ways to eat more greens video, which I'll link in the top right hand corner, and I just love to line my plate with greens, and just adding on my lunch or dinner right on top. And for this option I'm adding on some fresh raspberries for some sweetness, kind of like your desert after your lunch. It's just a lighter option if you're not feeling like a sandwich or a wrap you can just have it on a salad. Last, but not least, we're making one of my new favorites, a shrimp sushi bowl.
This is so easy to make and way cheaper than buying a Poke or Sushi Bowl from your local takeout spot.
For my base I have some cooked brown rice. You can use quinoa, really whatever leftovers you have in the fridge, or you can just use lettuce on the bottom. Drizzle it with some Tamari Sauce. And then top it with all your delicious vibrant veggies. I have some diced cucumber, some pre-shredded carrots that I bought at the grocery store, which saves you time, some Edamame, which I just got the frozen one, ran it under some hot water and it's like cooked in an instant.
And then for the protein I have some precooked shrimp. You can buy this in the freezer section already cooked, you just have to thaw it and it's ready to go. Then I have some chopped up roasted seaweed and I'm drizzling it with a spicy sriracha mayo. This is super quick to make sriracha, vegenaise or regular mayonnaise, and it's really delicious right on top of this sushi bowl. Now all you have to do is master those chop stick skills and you're good to go.
There you have it health nuts, four five-minute easy healthy lunch recipes. I know you guys will love them, and also let me know which one you think is your favorite and that you're most excited to try.
Leave me a comment down below. And also don't forget to cheek out our weekly Friday vlogs. If you didn't know we vlog every single week and we post them on this channel every Friday.
And that's where you're gonna find out all of the behind the scenes info, any secret projects that we're working on, you'll get to see sneak peeks and behind the scenes of them. So a lot of you guys are following us every single week, which is so, so cool just to kind of share our journey and process with like the shop, with other fun things that we're working on.
if you aren't subscribed to this channel. Click that red subscribe button down below if you're not, you will be able to see those Friday vlogs that we post every single week. And make sure you're following me on Instagram.
I'm also on there every single day, Instastories, on my feed, just sharing basically my life, things that I'm eating in my real every day life. So if you like these recipes that I shared, check those out. I'm also gonna have a play list down below with all of my quick, easy meals, the 10 minute dinners, five minute breakfast recipes, check that down below if you guys want more inspiration like this video. Thank you so much for watching. I love you guys so, so much, and I will see you in my next video.