Says data helps solve stock outs, advertising inefficiency and waste of energy.
Brands are getting closer to the moment of truth. Retailers get new revenue stream.
Corporate practices "Privacy by Design".
Argo Tea co-founder Arsen Avakian was struck by the number of times consumers in the aisles pulled out their phones while browsing a beverage cooler. When he asked why, he learned that they research brands to understand everything from ingredients to provenance. With a background in technology, Avakian had an aha moment. Why not turn the beverage cooler door into a giant phone screen? "The digital expansion of physical space became the big idea," he told BD in an interview. "These are existing interfaces that are already available to consumers here. Let's go digital on that door." Five years later, Cooler Screens, the company he founded from that idea, has installed more than 10,000 screens in 700 US retail locations including Walgreens, Kroger, CVS, GetGO, Circle K and chevrons. Consumers get a clear product presentation inside without having to open the door, as well as nutritional information, brand promotion and special price offers. "If you can give them that very basic momentum information in exactly those magic five seconds that they're making a decision, that's a game changer," Avakian said. "The shopper feels empowered." For retailers, the screens generate new advertising revenue at the point of sale. According to the company, Cooler Screens reaches more than 94 million "viewers" per month. So far, companies such as Coca-Cola, PepsiCo, Red Bull, Monster Beverage, Fiji Water and Molson Coors have advertised on screens. Behind the scenes, the screens collect identity-blind consumer behavior data that can be used to design and optimize promotions and pricing, track real-time shelf-level inventory, and attract digitally-savvy consumers to the store. Avakian said the screens resulted in an average increase in in-store sales of between 4% and 6%, depending on the category. BD spoke to Avakian to find out how Cooler Screens works and what's next for the company.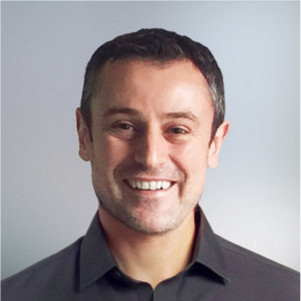 DETAILS. According to Cooler Screens, the company offers the world's largest retail digital media platform. The smart screens connected to the Internet contain high-resolution videos and photographs. Optical sensors track consumer movement, while inward-facing cameras track product in the cooler. "Just like when you click on a website, it's like a click when you open a door," Avakian said. "If you grab the product, we know that you just grabbed the product." The sensors also record how long a consumer stays. Advertisers can use the real-time information to, say, serve a pizza deal to someone who buys a six-pack of beers. "We can stitch together a data model that triggers the content," Avakian said. Cooler Screens is also introducing QR codes that can be scanned to allow consumers to remotely control a door screen. "The fact that we can bring digital capabilities to connect with people, promote products, tell brand stories at the shelf, in the moment of truth in a store environment, that's never been done before," Avakian said.
ENTREPRENEUR. Armenian-born Avakian co-founded Argo Tea as a café in Chicago in 2003 and grew it into a chain with nearly 30 stores. The company launched a ready-to-drink bottled tea that was sold in chain stores like Walgreens and Kwik Trip and became the focal point of the brand. Argo Tea was sold to Golden Fleece Beverages in 2020. That same year, Argo Tea experimented with Cooler Screens during a relaunch at Walgreens.
PRIVACY. According to Avakian, Cooler Screens practices "privacy by design". The technology is "identity-blind," meaning sensors and inward-facing cameras are unable to capture data that can be linked to an individual. "It's not about lawyers telling me what I can or can't do," Avakian said. "This is about what my customers think is okay or not okay. Even though it's a mile close to the gray area, I want to stay away from it." Respecting privacy is good for business, he added. "If I win their hearts and their trust, they give me access to their eyeballs so I can sell them the ads," Avakian said.
COST OF CAPITAL. Cooler Screens offers different financing models for dealers. In one case, the retailer buys the devices and Cooler Screens provides the software. The retailer then sells the screen time to brands for advertising and promotional media. In a second option, Cooler Screens sells the media time and splits the revenue with the retailer based on what the retailer has invested in the equipment. In a more recent program, a brand can purchase internet-connected Checkout coolers and pay a software fee that allows the brand to control media pushed onto the screen, identify malfunctioning products inside, and see when a cooler becomes inoperable.
RELEVANT ADVERTISING. Regarding ads showing up on Cooler Screens, Avakian said he wasn't interested in "a Geico insurance ad showing up on a Coca-Cola door," adding, "We made this rule that they needs to be contextually relevant to the consumer, what's good for the customer and good for the brand." Still, the consumer will be the final judge, he acknowledged. "If the consumer says, 'I'm okay with a Geico ad,' nobody here is going to have a say."
BRAND SAFE ENVIRONMENT. Avakian said one advantage of Cooler Screens compared to other online platforms is what he called a "brand safe environment." That means there's no risk of a brand's ads ending up near questionable content. "If I want to do business with Kroger and Walgreens and Coke and Pepsi, their reputation is just as important to them as anything," Avakian said. "So I have to provide them with an environment where they can feel confident about marketing."
A/B TESTING. Brands and retailers can use the screens to test the effectiveness of different ads and promotions so they can do more of what works, Avakian said. "They want a pink ad, a blue ad, a yellow ad," he said. "You want this promo or that other promo. You want a Chinatown version. They want a Greektown version." The tests can also show that a brand is leaving money on the table by offering a discount on a product a consumer would buy anyway, Avakian said.
DYNAMIC PRICES. Using a smartphone app, a store owner can change prices at will to respond to market conditions. Or a module can be installed to implement dynamic pricing based on retailer parameters. Cooler Screens can also use artificial intelligence to introduce price increases. According to Avakian, the technology offers brick-and-mortar retailers the same real-time capability as online retailers.
SOLD OUT. Cooler Screen's sensors can detect out-of-stocks in real-time at the shelf level, which can reveal inventory misalignments. "You could be out on the shelf but have 10 boxes in the back room," Avakian said. "This data is of great value to retailers and brands." Screen time can also offer competitive advantages.
CLOSE THE DOOR. There's a potential sustainability benefit for Cooler Screens, Avakian said. A typical consumer holds a traditional cooler open for an average of five to seven seconds while selecting a drink, he said. Cooler Screens reduces this "open-close cycle" to about 1.5 seconds. The company is conducting a year-long study to measure the energy savings due to this faster on-off cycle.
C MEMORY PUSH. Avakian said a focus of growth for Cooler Screens is the convenience and gas channel. One thing Avakian's team has learned during the pandemic is that consumers can get frustrated when they see neatly planogram product displays on a cooler screen, then out of stock and disorganization behind the door. Coolers Screens is working on technology that would recognize labels and specific SKUs, allowing the screens to represent the real world inside the cooler for store owners and independents who want to poke other products into holes to cool and sell. Of course, the product can be displayed even more organized inside, Avakian said. "I want to give them the choice," he says. "If 7-Eleven wants to force a franchisee to do it a certain way, that's their choice. If you want to give them flexibility because the supply chain is stressed and they want to put what they get from DSD on the shelf that day, the screen has to reflect that." Avakian also looks to the future when electric vehicles make very short journeys turn into longer journeys within the store when the car is charging. Its screens can give consumers something to do, which would give brands more time to deliver messages and promotions.