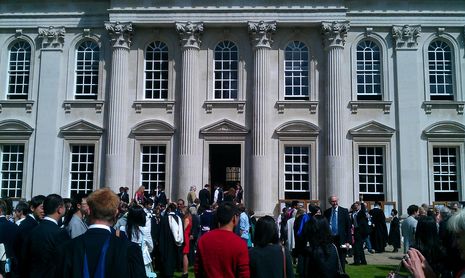 Why are you here? I'm not asking professionally. I don't mean: why do you exist? (My main job is philosophy.) I mean, why are you at a university? What are universities to the?
Well, it's clear enough what this one is for. According to its mission statement, Cambridge exists "to contribute to society through the pursuit of education, learning and research of the highest international standard". Education, learning and research – nothing else. Not (or not directly) other desirable things like economic growth or social justice or equal opportunity. As the University of Chicago puts it: "[A university's] Prestige and influence are based on integrity and intellectual prowess… She should not, therefore, be deterred from her mission to play the role of a secondary political force or influence."
As It may pursue this mission differently than schools. Consider my own topic. I do Make them (a) think for themselves; (b) defend their views against criticism; or (c) if they cannot do (b) change their mind.
Supervision can help. You write an essay every week: on democracy, spirit or religion. Your supervisor will discuss it with you. The discussion will challenge you; and you have to answer. It goes like this for an hour. Then you do it again the following week. One student – now a successful ad executive – remarked to me that after three years she knew she would never be intellectually intimidated by anything again.
But the process only works if students and teachers are Completely free to air all views. Suppose a student writes an essay arguing for the benefits of immigration. The teacher should feel free to draw a clear picture of his costs. (What the teacher really thinks does not matter.) Or suppose a teacher argues that trans women should have access to certain same-sex facilities. The student should feel free to argue that he shouldn't. she could be about it. But unless she can freely defend that view, she will never understand why it is wrong.
And, of course, teachers should be free to teach however they choose. Unfortunately, none of that seems to be happening.
There are several causes for this situation. One of them is a well-intentioned but misplaced idea that we should respect the beliefs, identities and values ​​of everyone else.
Jordan Peterson, for example, accepted an academic invitation to Cambridge in 2019. But the Divinity Faculty canceled it. The supposed reason was that it had been him photographed next to it a man wearing a t-shirt that was rude about Islam. The Vice-Chancellor endorsed the cancellation, writing that "hardly any heated debate can ensue… if some members of the community are made to feel as if they are being personally attacked, not for their ideas but for their very identities". Then the top leadership tried to impose a "freedom of expression" policy that demanded respect for all identities and opinions.
But a college education got to Question your most basic beliefs. This includes beliefs, for example religious beliefs, which may be part of your "identity". For this reason, scientific research cannot be a respect for persons, dogmas or institutions, especially not the ones our society worships the most. It can only respect the truth.
Don't agree to something just because everyone else finds it obvious. Truth is not a social, but an individual possession: each of us must find it for himself. Don't go along with bullying someone who disagrees with an ideology, as happened in 2020 when students attacked a Clare College porter who stood by his principles. When someone you otherwise respect says something that fashion or ideology would classify as bigoted or offensive—whether it's transgender or racial or Israel or just plain rude to the monarchy—do not reflexively back off, but stop and think: maybe there are fundamental reasons for disagreement.
And most of all, listen to that voice in the back of your head that says that what you're being told so vehemently, so often, and by everyone, doesn't make sense: maybe it's not true; maybe you have to think about it yourself. That voice has been nagging at us since we came down from the trees; it has fueled the moral and scientific progress of our species; it is our most precious possession. You must never let anyone shut it up.
Arif Ahmed is a philosophy lecturer at Gonville & Caius College
University is the independent newspaper of the University of Cambridge, established in its present form in 1947. In order to maintain our editorial independence, our print newspaper and news website does not receive any funding from the University of Cambridge or its constituent colleges.
We therefore rely almost entirely on advertising to fund ourselves and we expect a tough few months and years.
Despite this situation, we will look for inventive ways to serve our readership with digital content and of course also in print!
We therefore ask our readers, if they wish, to make a donation of £1 or more to help cover our running costs. Thank you, we hope you can help!